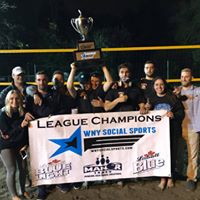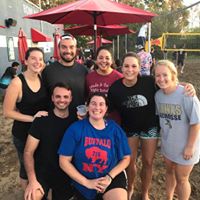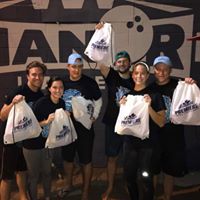 Summer Session at all locations if very close to being sold out!!  Register Now to ensure your spot for the upcoming session!  Please check out our facebook page and make sure you are signed up to receive our emails to stay updated with everything we have going on(ie.. Tournaments, Playoffs, Promotions)!   Please let us know if you have any questions.  We look forward to seeing you all soon for an awesome Summer Session!
CONGRATS TO ALL OUR SPRING CHAMPS ACROSS ALL LEAGUES!!

Want to play? Get in touch!
If you would like to join our league next season, sign up or contact us to find out more information.
Email
Eric@wnysocialsports.com
Our Leagues Enjoy:
Top of the line facilities
Courts overhauled & new sand
All new equipment
Drinks & food served to courts
Online Schedule and Stats
Awesome prizes and awards
Connect with us:  


Sponsored By:
     


FYI: The charge will show up on your card as WNY Social Sports.  Thank You very much for your business!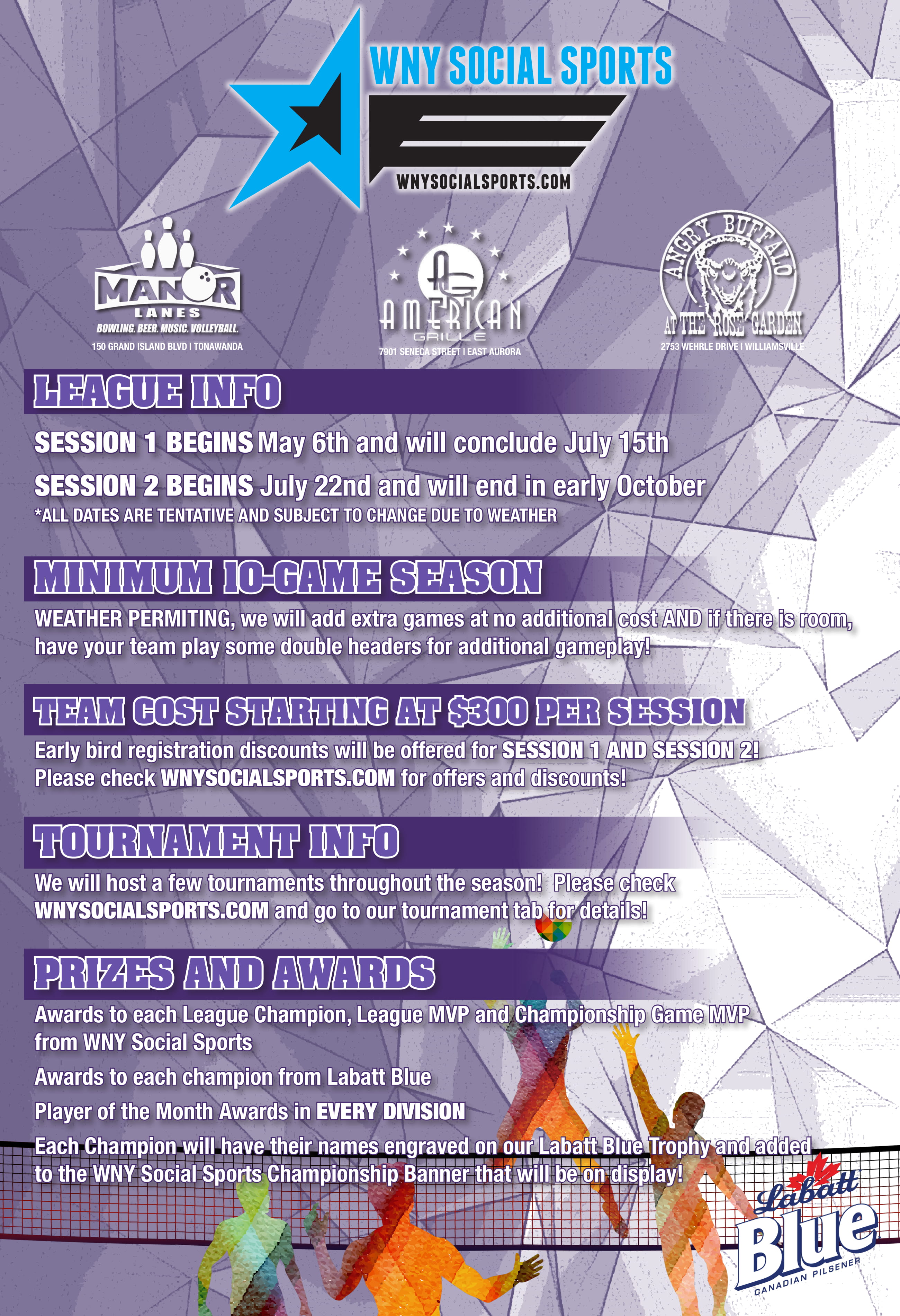 2019 Season Info - 
Tournaments - Check our tournament tab for dates!
TONS of awards and prizes!  Awards from WNY Social, Labatt Blue, Player of the Month, League MVP, Championship MVP, Player of the Year, Team of the Year etc.
We can order custom shirts or full custom team uniforms for you!  Contact us! We would love to pull up to the courts and see matching team colors -  a red team vs a white team, a blue team vs a green team!
NEW LOCATION ADDED - DEPEW PARK!!
2019 Summer II is almost sold out so REGISTER NOW!

We will be running leagues at the following locations:
American Grille - East Aurora
Angry Buffalo at the Rose Garden - Williamsville
Manor Lanes - Tonawanda
League types:

Hi-Rec Coed 6's
Low-Rec Coed 6's
Intermediate Coed 6's
Coed Power 4's
Elite 2's

Tournament Types:

Cash Prize 4's
Cash Prize 6's
Volleybeer
Blind Draw
WNY Social Sports Battle of the Champions

We're Offering:

Updated Courts (New Sand, Lines, Ref Stands and Equipment - courts tilled daily!)
Fun and friendly atmosphere
Online access to Standings, Scores and Schedules
Drink specials at the courts
Outdoor bar only feet from courts (at some venues)
League awards and Sponsor awards to each League Champion
Team uniform discounts
Championship banner and cup with names engraved of each sessions winners to be displayed at each of our locations year aroun

Here are some FAQs:
On Co-ed teams how many women have to be on the team?
There are no limits on the roster, but 2 females must be on the court during the game. If only 1 female is available the team must play with 4 players - 3 males and 1 female.
When are Ref fees paid?
$10.00 are due to the refs before the game.
Is there BEER?
Drink specials for WNY Social Sports players every night!
PLEASE NOTE - Refunds are only given if a league you registered for does not fill.  If you register as a Free Agent and we cannot find a team for you, we will also issue a refund.  Unfortunately, we are unable to give refunds for any other reason.
Session II Leagues start in Late July and spots are limited.
Sand Court, Bar League Volleyball at it's best!
One of the best run recreational, intermediate and Power volleyball leagues in the Western New York region. Find out about how you can get your team playing today. WNY Social Sports is a league management service, dedicated to serving up fun co-ed recreational and advanced volleyball. If you would like us to assist with your league please feel free to contact us.